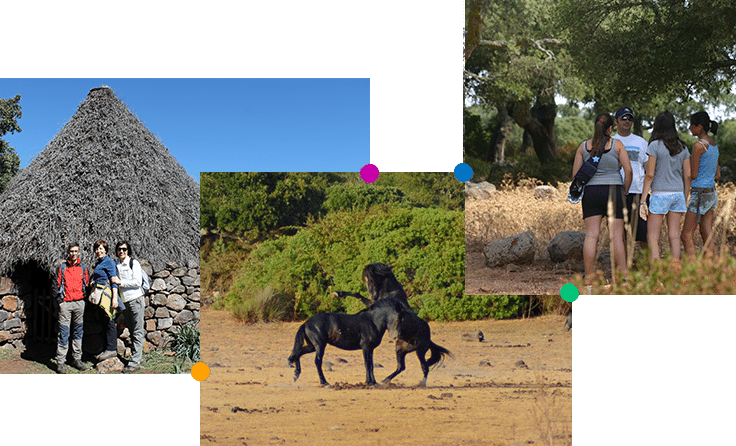 ---
During our walks through the paths of the Giara, you will have the sensation of feeling moments when time seems to stop, and extraordinary colors will accompany us in a unique emotion. The huge expanses of water called "Paulis", meeting place for wild horses and all the other animals that inhabit the Giara, shine in the light of the sun, which in the evening at dusk gives life to a splendid scenery where everything seems to change as soon as its tenuous rays rest on it. Here the horses gather to cool off and to feed themselves with the aquatic buttercups (Ranunculus Aquatics) that bloom in the months of April and May covering the immense Paulis with a white blanket.
In these places there is an absolute absence of noises except the slight chirping of the birds or the "cloppettio" of the hooves of the horses that run for the Giara. You will be enveloped by the fragrance of the many species of flowers present that with their scent mixed with fresh and pure air will drag you back in time making you live exciting moments and understand how over the centuries few things have changed on this plateau. Everything here is perfect, from the scenery of life to the beautiful views, from the absolute absence of noise to the fresh and crisp air, the right ingredients to enjoy a fabulous relaxation.
---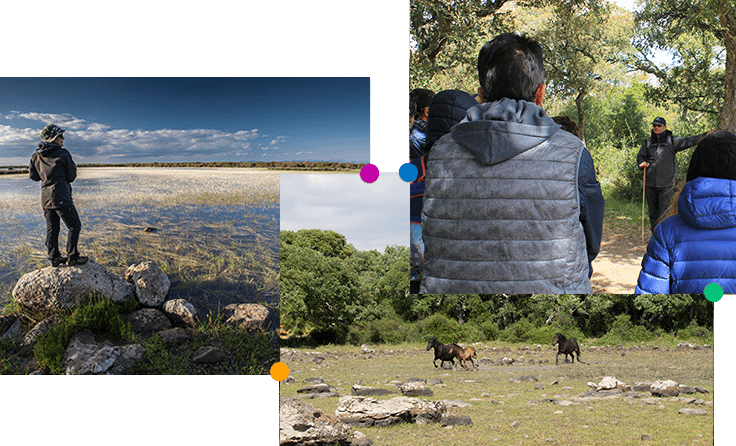 ---
The meeting with the environmental guide that will accompany you along the paths of the Giara, must be agreed in advance by telephone 070.9364277 or WhatsApp 348.2924983 or via e-mail info@parcodellagiara.it; together you will reach the Giara plateau through a convenient paved road (also accessible by all buses) that in a few minutes reaches 400 meters higher. On the Giara you enter the plateau in the characteristic environment through woods of holm oak, oak and cork (3 types of wood), cistus, lentischio, phyllirea, strawberry tree and myrtle, prairies with ferule, euphorbia, asphodels and scented elicriso.
You will reach the characteristic "Paulis", depressions where rainwater is retained by the basalt, creating in some periods of the year the suggestive corners in which it is possible to observe the Cavallini grazing peacefully, feeding on the white buttercups that bloom on the surface of the 'water. During the excursion, you can stop to observe (according to the periods) spectacular blooms of cyclamen, violets, su zaffarau (wild saffron), anemones, daisies, cornflowers, hawthorns, perastri, and beautiful colorful orchids (in spring). It will also be very interesting to recognize the typical plants of the Mediterranean vegetation and know the use that the man has made for daily activities, nutrition, folk medicine, play, etc .. Particular attention will be used in presenting the environment of the Giara Park as a "Sample Area", as an instrument for reading the environment, archeology and history of Sardinia. For those wishing to visit our area, it is possible to integrate the excursion on the Giara with the many interesting attractions of the area.